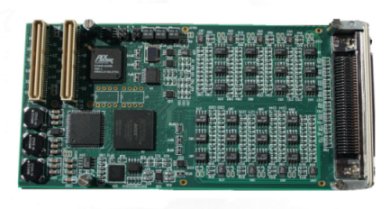 24 wide-range differential 24-Bit simultaneously-sampled analog input channels.
 Sample rates from 1.0 Kilosamples per second (KSPS) to 200 KSPS per channel.
 Synchronous operation; all channels clocked simultaneously.
 Software-selectable analog input ranges of ±10V, ±1V, ±100mV, ±10mV. (Optional
±10V, ±5V, ±2V, ±1V ranges, or ±5V, ±0.5V, 50mV, ±5mV ranges also available).
 Delta-Sigma input conversion minimizes or eliminates the need for antialias filtering.
 Low noise: 106dB typical dynamic range.
 256K-sample analog input FIFO buffer.
 Sample clock source selected as internal or external.
 Hardware sync and clock I/O for multiboard synchronization.
 On-demand autocalibration ensures DC offset precision as well as AC performance.
 Conforms to PCI Express Specification revision 1.0a, single-lane.
 DMA engine supports both block-mode and demand-Mode transfers.
 Integrated DC/DC conversion and regulation of precision internal supply voltages.