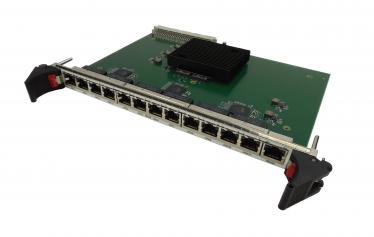 製品カテゴリ

フォームファクタ
VME compliant (only takes power from the VME bus)
Managed Layer two and layer 3 switch/12 ports of 10/100/1000 via RJ-45 on the base board front panel
IEEE 802.3-2005/IEEE 802.3ad (Link aggregation)/IEEE 802.1p (Prioritization)/IEEE 802.1Q (VLAN tagging)
IEEE 802.1Q (Spanning Tree Protocol)/IEEE 802.1Q-2005 Multiple Spanning Tree Protocol (MSTP)

The VME215 is a 6U single slot VME module that has 12 ports of 10/100/1000 GbE via RJ-45 on its baseboard front panel.
The switch is managed via VadaTech Switch Management with SSH and SNMP for switch remote management and supports a rich set of features such as Link aggregation, Prioritization, VLAN, STP, MSTP, etc. /The module supports standard +5V power supply from backplane.