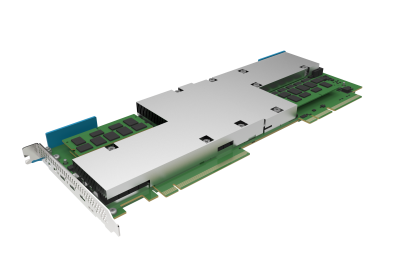 製品カテゴリ

フォームファクタ
The Artesyn SharpStreamer™ Pro PCIE-7210 high-performance video accelerator enables service provider networks to offer HEVC video transcoding services quickly and dynamically.

With a focus on the high-density and low power demands of video streaming applications such as OTT streaming servers, mobile network optimization, video conferencing and broadcast equipment, Artesyn employs dual Intel® Xeon® GPU accelerated processors based on the Skylake microarchitecture in a small and scalable PCI Express card footprint that is easily deployable in off-the-shelf platforms.

As an add-on card, the SharpStreamer Pro PCIE-7210 offers quick and scalable integration with existing and standard server architectures to meet the demands of ISPs and MSOs who want to use existing servers and cloud infrastructure to support new video transcoding services.

The SharpStreamer PCIE-7210 is equipped with a Software Development Kit comprised of the Intel® Media Server Studio™ Essentials runtime files with Intel® HD Graphics' fixed-function hardware acceleration, monitoring and processor subsystems, O/S, and management tools for easy integration with server host processing environments.