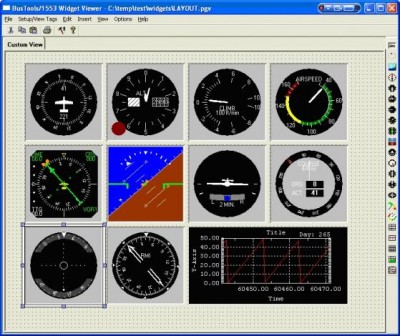 Flexible Real-time Data Displays
• Quickly create multiple, concurrent displays
• Data displayed in engineering units with labels
• Simplified filtering
• User-formatted charting - real-time and historical

Advanced Archive and Playback
• Log 100% of bus traffic on multiple channels to disk and/or memory
• Three different simultaneous logging features
• Pre- and post-processing filtering of data to word count
• Multi-level event triggering
• Real-time bus playback with RT edit mode
• PAT - Parallel Analysis Tool displays multiple views of archived data

System Integration Tool - Selective Data Watch
• Real-time display of individual data words from any bus message
• Designed for interactive use
• Quick selection of up to 64 data words with no programming
• Upper and lower limit checking with notification
• Out-of-limit log file with snapshot feature Bus Analysis
• Analyze 1553 bus protocol activity
• At-a-glance Bus Activity Screen
• Detailed display of message status, errors, data
• Inject/detect errors at the message and word levels
• IRIG/GPS synchronization capability. IRIG B decode optional
• Graphical "Topology" representation and icon controls for customized bus schematic layouts, ease of use, and trouble-shooting of cable/transformer connections

Bus Simulation
• Simulate all or part of a bus
• Modify simulated data
• Intuitive, interactive operation
• Major/Minor frame Bus Controller architecture
• Graphical, icon-based GUI programming
• Conditional BC branching
• Simple ASCII file formats for BC, RT and EU (ICD) definitions. Full ASCII conversions for archived data allows easy export to spreadsheet applications.