This newsletter contains information for our sales/distribution partners only. Do not publish or pass directly to customers.
This year has seen a roll-out of an extensive range of OpenVPX products, including chassis for development and deployment, FPGA and ADC/DAC payload modules, switches and processors. Most of these have been in 3U form factor, but the 6U range is also growing and this month we wanted to highlight some of those products as, once again, VadaTech demonstrates capability to provide complete platform solutions.
6U VPX Products

Processors
As you know, VadaTech product development is focused on high-value functionality such as FPGA and signal conversion, where there is a clear gap in the market. But we recognize that customers need to deploy complete systems and we continue to develop all elements needed to support this. So the VPX752 supports this aim, as a very capable host processor supporting both PCIe and 10GbE XAUI on the backplane with on-board XMC site to VITA 42 or VITA 61. The board comes with a range of 5th generation Xeon-D options to suit various price/performance levels. If yet more flexibility is required, consider the VPX550 described below.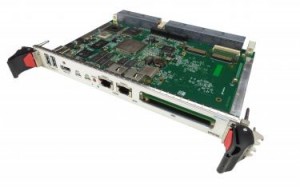 FPGA
While most FPGA modules fit in 3U form factor, several require the additional space provided by 6U. The VPX550 couples a Kintex UltraScale™ XCKU115 with a COM Express site for easy integration of an Intel processor. This combination of FPGA and host processor results in a very powerful general purpose unit, but remember that where a COM Express module is fitted the board may need to be 10 HP to allow for the COM Express heatsink.
The VPX551 is a dual UltraScale™ XCKU115 with rear I/O via VITA 66.5 optical connectors. This board is ideal for radar and EW applications where sensor input is fed over fiber-optics from a remote sensor array. The VPX580 uses a Zynq UltraScale+ XCZU19EG to support dual FMC+ sites. With almost 2,000 DSP slices and a quad-core ARM processor the Zynq is a very versatile processing engine, and the board routes additional SERDES and LVDS signals to the rear for flexible I/O. Both of these boards are selected by leading defense primes for radar applications.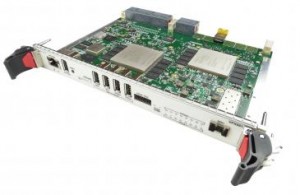 Switches
Not yet on the web site but due early next year, VadaTech is developing a 6U 10GbE switch based on the same switching technology used in our UTC002. This will include Tier 2 platform management option, and will be available with all ports routed to the front panel (so simply used as a shelf/chassis manager but capable of switching external equipment) or all ports routed to P1/P2/P3 (so used as a 10GbE XAUI switch within the chassis). The clocking capabilities offered by the optional shelf manager (per UTC004 options) far exceed those found in most OpenVPX systems.
Customer Engagement
Our 6U VPX range is being driven by engagements with leading defense primes producing radar and EW systems. They work with VadaTech because of our proven capability to deliver complex systems leveraging our existing, extensive product range. We achieve a very high conversion rate, converting leads into sales, through strong technical discussion, so please talk with your local sales office where you see potential opportunities.